| | | | |
| --- | --- | --- | --- |
| | | | |
ファイナルファイト2
©1993 Capcom
Release: 1993-05-22 (¥9000)
Cartridge SHVC-F2
Beat'm up





Released in America as
FINAL FIGHT 2
( SNS-F2-USA )


Released in Europe as
FINAL FIGHT 2
( SNSP-F2-XXX )
After the infamous Final Fight and Final Fight Guys ports for the Super Famicom , Capcom released an exclusive sequel for Nintendo's 16bit system. The game takes place where the first opus left off - Metro City is now crime-free and the Mad Gear gang is no more. Or this is what mayor Mike Haggar seems to think. The criminal gang has already regrouped and Maki, a young girl, calls the mayor to the rescue - her sister and father have been kidnapped and she disparately needs help. Final Fight 2 features the strong Mike Haggar himself and two new fighters to the series - the swordsman Carlos and the cute Maki. The game's story starts in Hong Kong but quickly moves to Paris and other European cities. Final Fight 2 follows the same control scheme that made the series popular - one button triggers punches and combo attacks and another gets the fighter to jump. Press both buttons and he will unleash a special move that can hit several enemies at once. Unlike the first port of the series, Final Fight 2 features a two simultaneous player mode.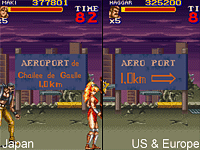 As expected, the original Japanese and American versions (and consequently European versions) show various differences. As with Final Fight, two girl gang members (called here Eliza and Mary) were replaced by dudes called Robert and Leon. Also, Won Won the boss from the Hong Kong stage lost his large cleaver. Another interesting regional change can be found in the Paris stage. There, our heroes get close to the airport area and a sign clearly points to "Aeroport Challee de Gaulle" which was supposed to be French and actually says "Aeroport Charles Degaule" (one of the biggest airport near Paris). Because of the obvious confusion, the American version just wrote "Aero port" and this is what the French and European players also got... all of this was just lost in translation it seems.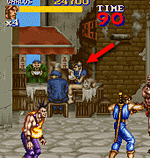 Final Fight 2 shows a series of interesting cameos. Chun Li from Street Fighter II can be seen eating noodles in the background of the Hong Kong stage. A sign saying "Ryu" can also be seen in the same stage. In the Paris stage, a standing character strangely looking like Guile can also be seen cheering in the background.
Teaser text from the American version:
It's Mad Gear Madness! They're back stronger than ever and they want revenge. With a new mysterious leader they plan to dominate the entire world. This time they've kidnaped Genryusai and his daughter Rena. Now Haggar must travel around the world to search for Genryusai and Rena. But he's not going alone. Carlos and Rena's sister, Maki, are joining the slam-fest to put the gang away for good. Search for numerous weapons such as knives, nightsticks and 2x4's or find food to recover your strength. Choose from Haggar, Carlos or Maki, each with their own style of fighting. Or have a friend join in for double the power and crush any punk that stands in your way.

G
O
O
D
I
E
S



Japanese Mook

O
M
A
K
E



Click on picture to enlarge
LK



Add your Pov here !



P
O
V
s


Here's the beauty of Final Fight 2 - despite not bringing anything new to the series, sort of "more of the same but better" kind of feel, it yet manages to get you glued to the controller and beat'up endless waves of all kind of gang bangers. The lack of a two simultaneous player mode was also the Super Famicom port of Final Fight's biggest flaw and Capcom cleverly addressed the issue in this sequel. Graphics also look sharper and have received a nice upgrade. The game has also an interesting 'Street Fighter' feel to it and gets you to travel throughout Europe for the cause. All in all, you have here a really decent Final Fight sequel and though the overall game lacks some momentum the end product is definitively fun to play.