ニュージーランドストーリー
©Taito Corp. 1990
Release : 1990-2-23 (¥6600)
HuCard (3 Mbits) TP02007
Action / Platform game

The New Zealand Story is a platform game by Taito, conversion of their own arcade game originally released in 1988. Two kiwis called Tiki and Phee-Phee live peacefully with their friends. But one day, a gigantic leopard seal appears from nowhere and stuffs all the poor birds in his giant bag to sell them on the black market. Tiki manages to escape his captor and decides to help his friends. But our hero is not your traditional Kiwi - He comes equipped with a bow and arrows and special items can get him to throw bombs, fire lasers and even steal and ride his opponents' flying vehicles. Stages are vast and warp-doors scattered around them help our Kiwi friend in his long journey.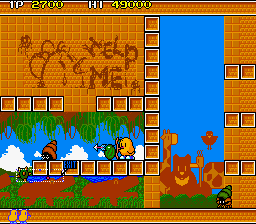 The original arcade game was released in 1988 by Taito (picture on the right) and was ported to countless home systems of the time - Atari ST (1989), Amiga (1989), Amstrad CPC (1989), ZX Spectrum (1989), Commodore 64 (1989), PC Engine (1990), Sega Megadrive (1990), Famicom (1991 - named Kiwi Kraze in the US), Master System (1992). The game was also included in 2005 in Taito Legends for the Playstation 2, Xbox and in Taito Legends Power-up for the Playstation Portable in 2006. Finally, an 'updated' version named New Zealand Story Revolution was released for the Nintendo DS in 2007. As a side note, many players see Mizubaku Daibōken as the spiritual sequel to The New Zealand Story.

O
M
A
K
E



Click on picture to enlarge
LK



cosmos99



P
O
V
s


The New Zealand Story is a great and really unique game. The PC Engine port is nearly arcade perfect, only the introduction sequence was omitted which is kind of odd... maybe it could't fit on the 3Mbits HuCard. Some enemies are also missing and graphics are not as clear as the arcade. I personnaly think Mizubaku Daibōken is a lot better with a relatively balanced difficulty curve which is not really the case here... The New Zealand Story is tough as nails to beat. But don't get me wrong, The New Zealand Story is a fun and challenging game. A definite classic from the 80's.


Excellent little platform game, really varied and graphically polished, I really like the game's original universe! The only shame is its difficulty level, I've never managed to finish it, maybe one day... ^^