SAIGO NO NINDŌ : NINJA SPIRIT
| | | | |
| --- | --- | --- | --- |
| | | | |
(c)1990 IREM CORP.
vol.4
Release : 1990-07-07 ("7000)
HuCard (4 Mbits) IC02004
Action / Platform game




Released in America as
NINJA SPIRIT
( TGX040050 )
Saigo no Nindō: Ninja Spirit is a ninja action game by Irem, conversion of their own arcade game released in 1988. Almost like a true 'Ninja Tradition', the game features a fearless ninja with mystical beast-powers on a mission of revenge against the fearsome army of demons that killed his brother. Tsukikage, our hero, has four weapons to choose from and can switch from one to another at will. They include the traditional katana blade, the fast throwing stars, the powerful hand grenades and a neat hook type weapon. Those weapons greatly expand the range of available options and the player is often challenged with situations where a specific weapon has to be used. Those weapons can also be upgraded by collecting special bonuses left behind by red colored Ninjas. Other special items, such as shields or multiple-shadows can also be collected. The game offers an Arcade and PC Engine modes, the later gives the player five lives (or hits) instead of one.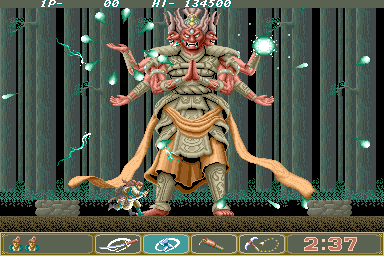 Saigo no Nindō: Ninja Spirit, aka Ninja Spirit in the west, was released in the arcades in 1988 (pictured on the left). The game was ported for many systems of the time such as the Atari ST (1988), C64 (licensed by Activision, 1990), Amiga (1990), PC Engine & TurboGrafx 16 (1990), Sinclair ZX Spectrum (1990), Ninja Spirit: Saigo no Ninmichi (Game Boy, 1993). The PC Engine version was added to the Wii Virtual Console's library in 2007.
LK



Add your Pov here !



P
O
V
s


Ninja Spirit is a fun and intense Ninja game and this conversion is surprisingly close to the original arcade game. Sprites are rather small but each stage is literally swarming with demons and evil Ninjas of all kinds. Bosses are also often impressive and are usually based on feudal Japanese which brings an unusual mystical feel to the game. The hero of the game also has some interesting wolf-powers that really confused the hell out of me when I was a kid... Playability is excellent and the game sometimes plays like a shooter rather than a platformer. Sadly, Ninja Spirit badly slows down and flickers when a lot of sprites are displayed on screen, but this annoying flaw doesn't really affect the gameplay. A great conversion.