WINDS OF THUNDER
( Lords Of Thunder )
| | | | |
| --- | --- | --- | --- |
| | | | |
ウィンズ・オブ サンダー
©1991 Hudson Soft
©1993 Red
Release : 1993-04-23 (¥6800)
SuperCDRom² HCD3039
Shooter / Horizontal




Released in America as
LORDS OF THUNDER
( TGXCD1033 )
Winds Of Thunder is an intense horizontal fantasy-themed shooter by Red and published by Hudson Soft. The game is not really related to Gate Of Thunder released in 1992 and both titles only share the word "Thunder" in common. The player takes control of a flying warrior called Randī (aka Landis) who embarks on a long journey to defeat the six Lords Of Mistral and their evil master Dark Zaggart. Interestingly the player can freely pick one of the six available stages in any order. Our hero doesn't come empty handed and suits of magic armors greatly help him in his quest. These enchanted and wonder items allow him to control the powers of the four elements, namely Earth, Fire, Wind and Water. But there's a catch and Randī faces the difficult choice of selecting the most appropriate armor before rushing into battle. The almighty armors can be boosted by special items that defeated foes leave behind - they can be upgraded from pathetic single shots to fireworks of lethal blasts of energy. If all of this wasn't enough to take those horde of monsters down, Randī can also use his sword to strike enemies foolish enough to wander too close to him. Finally, in order to survive desperate situations, powerful bombs can be unleashed to wipe out most of the unwanted foes on screen. Money (in the shape of colored gems) is also an important component of the game and can be used to purchase special powers such as shields, bombs, health and more.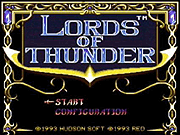 Interestingly, the American version of the game was renamed Lords Of Thunder (picture on the left) and, unlike the Japanese version, doesn't seem to feature any speech during the introduction sequence nor the various game menues. Winds of Thunder was also released for the Sega Mega CD in 1995 - the game plays as well as the PC Engine version tested here. The graphics are however not as sharp and feel a bit washed out and the soundtrack was slightly remixed. But all in all, both versions are fairly close.
Masamune Shirow (creator of Ghost in the Shell and Apple Seed) designed the art cover for Winds of Thunder. This was not his first time in the field and he also designed the cover art and in-game graphics for the HuCard game Eternal City by Naxat Soft.
Teaser text from the american version:
The peaceful country of Mistral is facing grave danger. Evil livings have entered the Six Lands of Mistral to restore the Dark One, Zaggart, imprisoned long ago by the Holy God, Pharina, and the Legendary Hero, Dyu. You are Landis, the only warrior descendant of Dyu, and you have risen to fight against them. Wearing magic armor inherited from Dyn, you are about to single-handely battle hordes of evil enemies in order to stop Zaggart. The future of Mistral depends on you !
Game Staff (Copied from the end credits) :



Original Plan
K. Nakazawa
Red Kaminarimon

Character Design
K. Nakazawa

Game System
Red Kaminarimon

Main Program
Ninniki.Nin

Sub Program
Owa Chan

Graphic Design
Metal
Shell
Idol

Producer
E. Aoyama
M. Kobayashi

Director
T. Matsunaga

Shōgun
M. Kadowaki

Supervisor
T. Horio
K. Wiyamoto

Special Thanks
T. Kawada
A. Yamasaki
E. Yamamoto
K. Yuzawa
H. II

Super Assist
N. Nakamura

Music Produced By
T's Music

Music Composed By
Groove King

Created By
Red Kaminarimon

Presented By
Red
Hudson Soft


O
M
A
K
E






Click on picture to enlarge
LK



Add your Pov here !



P
O
V
s


Winds Of Thunder (aka Lords Of Thunder in the west) is an amazing game. When the screen gets covered up with bolts of lightning and fire, you realize how special Winds Of Thunder really is. It is fast, intense and features stunning animations, gorgeous graphics and really creative level design. End of level bosses are also a feast for the eyes and Randī always confronts monstrous and jaw dropping beasts (From all the screenshots presented here, only one actually features a boss! all the others are just in-game enemies!). Finally, Winds Of Thunder offers one of the most inspired monuments of video game soundtrack history with its intense and loud metal music. I personally don't think it really fits the game, but, I have to admit, it is magnificent. A finely crafted shooter.