| | | | |
| --- | --- | --- | --- |
| | | | |
スター パロジャー
©1992 Hudson Soft
1992 Inter State/Kaneko
Release: 1992-04-24 (¥6800)
SuperCDRom² HCD2024
Shooter / Vertical

Star Parodia (also known as Star Parodier) is a cute vertical shooter by Hudson Soft. As the name sorts of implies, Star Parodia parodies memorable and seminal game icons created by the Japanese company, namely Star Soldier, Bomberman and the PC Engine system itself. Planet Paroson is at stake and the Mother Brain's army must be stopped ! Earth decides to deploy three of its best star fighters - Paro-Caesar (Caesar is the ship from the Star Soldier series), a large robotic and flying Bomberman, and a white ship in the shape of the original PC Engine system. Each fighter comes equipped with its own set of weapons and abilities, from lasers and Vulcan guns for the Paro-Caesar, bombs and explosives for Bomberman, to utterly unconventional Hucards, CDRoms and controller pads for the PC Engine ship. Each fighter features three main weapon systems (Red, blue and yellow) that can be switched by collecting different power-ups, and accumulating them increase their strength and range of destruction. Finally, and in the Star Soldier tradition, secondary weapons are also available for the picking, such as multiples, shields and missiles. Star Parodia features eight long and humorous stages, midpoint mini-bosses, and two score-attack modes.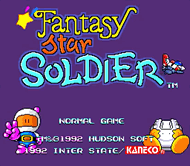 Star Parodia was planned for release in North America under the name Fantasy Star Soldier (picture on the left). It however never made it commercially and the release was eventually canceled. Interestingly, a working prototype was later found and leaked to the public. It is anyone's guess as to why this English version wasn't released for the Virtual Console in 2008 - the version of Star Parodier available on the Wii Virtual Console in North America is the Japanese version of the game (including Japanese menus), and not Fantasy Star Soldier. Finally, Star Parodia was included in the Soldier Collection released for the Playstation Portable in 2008 (along with Final Soldier, Super Star Soldier and Soldier Blade).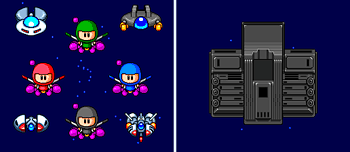 Star Parodia's end credits is definitively a giddy nostalgic kaleidoscope of Hudson Soft and Nec characters and video game machines (picture on the right). They feature the Noah ship from hector'87, the Gunhed space-fighter, the original Caesar ship from Star Soldier, a PC Engine Shuttle ship and a monolithic space station in the shape of a SuperGrafx !
Game Staff (Copied from the end credits) :



Production Executive
Kudō Yūji

Executive Producer
Nakamoto Shinichi

Producer
Aoyama Eiji

Game Design
Kawada Tadayuki

Technical Advisor
Matsunaga Tomofumi

Production Progress
Miyamoto Naruhito

Program
Yamashita Takashi
Sugimoto Takashi


Graphic
Yokoyama Shō
Furuhashi Hideyuki
Yamamoto Kenji

Sound
Composition.Arrangement.Mixing
Saitō Hiroshi (Konpojira)

Composition
Watanabe hito (Uesuton)

CD Audio
Suzuki Makoto (konpojira)

PSG
Sakamoto Shinichi

S.E.
Iwabuchi Takayuki


ADPCM
Inoue Masaaki

Sound Production
Sasagawa Toshiyuki
Takimoto Toshiaki

Voiced
Ginga Banjō
Hisakawa Aya

Narration Cooperation
Aoni Production
Furuichi Toshio
Studio Tabakku


Special Thanks
Nagashima Yasunori
Arai Yoshihiro
Matsuura Hideki
Murage Kenji
Saitō Yoshimichi
Nakamura Hata?
Ōtake Hirokazu
Sekiguchi Shinobu
Yamaguchi Masato
Hatanaka Hiromitsu
Kawabata Shūji
Yamamoto Masa
Fukuyama Katsuji
Shioya Keita
Shiozawa Yukihisa
Abe Kazuyuki
Utō Akihiko
Katō Shirō
Taguchi Masayuki
Kōno Mitsuru

Production Cooperation
Interstate / KANEKO

Copyright Production
HUDSON SOFT


O
M
A
K
E



Click on picture to enlarge
LK



Add your Pov here !



P
O
V
s


In a way similar to Konami's Parodius series, Hudson Soft created its own wacky spin-off, and called it Star Parodia. I'm not ashamed to say that this awesome game is the reason why I initially purchased a CDRom system - and I don't regret it to this day. Star Parodia is a fantastic shooter packed with crazy characters, absurd levels and a wonderfully memorable soundtrack. Flying through the black Bomberman level, crossing path with super-deformed and cute versions of bosses from Super Star Soldier, finding out that the Caesar's pilot is a blue-haired girl, or discovering that a Super Star Soldier HuCard is inserted into the PC Engine ship before launch are the kind of pleasures that hit my nostalgia button. The control system is also precise and incredibly responsive, and the game starts off easy but becomes more demanding as you progress (it never gets as hard as a traditional Star Soldier game though). I highly recommend Star Parodia, and beneath the cute and cuddly exterior lies an extremely well crafted shooter that shouldn't be missed by fans of the genre.