| | | | |
| --- | --- | --- | --- |
| | | | |
スナッチャー
©1992 Konami
Release : 1992-10-23 (¥7800)
SuperCDRom² KMCD2002
Digital Comic


Snatcher is a Cyberpunk/Futuristic digital comic created by the prolific video game designer Hideo Kojima. The game takes place in 2047 in Neo Kobe City, fifty years after a catastrophic disaster in Moscow that released a secret biological weapon in the atmosphere, and claimed a large portion of the human population. Mysterious humanoid cyborgs called the Snatchers have started to appear regularly all over the city - although not much is known about their origins, it is clear that they are plotting to take over the world by killing their victims and stealing their identities. The player takes control of Gillian Seed, a member of the JUNKER organization ("Judgment Uninfected Naked Kind & Execute Ranger" in this PC Engine version) that was created to eliminate the mysterious threat. However, Gillian and his wife Jaime Seed both suffer from amnesia. They were discovered in Siberia and can't recall the chain of events that led them there - but soon, the awareness of their past history reveals that they may be both connected to the recent events. Gillian is also accompanied by Metal Gear Mk.II, a small robot navigator that helps him investigate people and items, and also use a videophone to call anyone in the city. Snatcher is a traditional digital comic and features animated graphics and menu driven controls. Although the game includes a handfull of action scenes, all the text and menus are in Japanese, and a fairly good knowledge of the language is requiered to enjoy the game.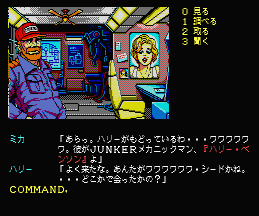 Snatcher was first released in 1988 for the PC-8801 MkII Japanese computer and for the MSX2 (picture on the right). A cute and action based version called SD Snatcher (aka 'Super Deformed Snatcher') was released in 1990 for the MSX2, and the game's creators took some liberties and shuffled parts of the story around. Interestingly, the first versions of the game only included two acts, and the PC Engine port tested here seems to be the first version to feature a third act, and therefore a 'proper' ending to Gillian Seed's story. Snatcher was then ported to the Sega CD in 1994 - curiously, this version was exclusively released in Europe and North America, and is (so far) the only English localization of the game. Enhanced and upgraded versions of the game followed in 1996 for the Sony Playstation and Sega Saturn - although both games feature better graphics, they were censored and all of the more-mature graphics and mild nudity were edited.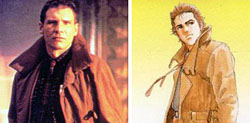 Hideo Kojima (better known for his Metal Gear series) is the prolific mind behind Snatcher. The game is undoubtedly inspired by Hollywood classics such as Ridley Scott's Blade Runner released in 1982, and Gillian Seed does share a lot in common with Rick Deckard (Harrison Ford, picture on the left). The opening sequence of Snatcher borrows some of the memorable imagery from Ridley Scott's classic - factories shooting flames high into the sky, flying cars and a large pyramidal building. The Junker Headquarters tower is also quite similar to the Police HQ seen at the beginning of Blade Runner. The Snatchers also certainly remind, in essence, of the Replicants - but while their true identity could only be revealed by running an extensive psychological test in Blade Runner, they suffer from a fatal skin defect that causes cancer in Snatcher. The physical appearance of the Snatchers is however more related to James Cameron's Terminator - the Snatcher's robotic endo-skeleton certainly reminds of the classic T-800. But Hideo Kojima didn't only reference classic Hollywood movies - Snatcher also contains references to Metal Gear.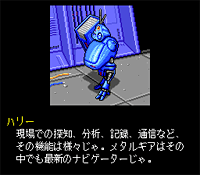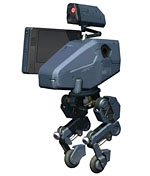 The most noticeable is certainly the name of Gillian Seed's navigator robot (picture on the left). Metal Gear Mk II is directly related to the Metal Gear series and the theme of Metal Gear II (MSX) is even played the first time the tiny robot is introduced to Gillian. Harry, the enginneer at the Junker HQ quotes - "I took its basic design and its name from the Metal Gear menace from the late 20th Century. But quite unlike that Metal Gear, this one was designed for peaceful purposes". Interestingly, another robot also named Metal Gear Mk II accompanies Snake in Metal Gear Solid 4 Guns of the Patriots for the Playstation 3 (picture on the right).
The PC Engine version of Snatcher served as a template for all the versions of the game that followed. The original MSX game only featured two acts, and the third act was introduced for the first time in the PC Engine port (interestingly, Gillian never gets to meet Jamie Seed in the original versions of the game). The game's instruction manual also includes a small comic book (see the Omake section) which later inspired the animated introduction sequence from the Sega CD version.
Game Staff (Copied from the end credits) :



Appearance
Yara Yūsaku
Koyama Mami
Inoue Kikuko
Shiozawa Kaneto
Tominaga Mīna
Saikachiryūji
Inokuchi Isao
Naya Gorō

Planning
Kojima Hideo

Original Screenplay
Kojima Hideo

Assistant director
Inoue Shinya

Character design
Kinoshita Tomiharu

Mechanic design
Ōta Yoshihiko

Original picture
Kinoshita Tomiharu
Ōta Yoshihiko
Yoshioka Satoshi

CG director
Ōta Yoshihiko

Graphic
Ōta Yoshihiko
Yoshioka Satoshi


Audio Video Sync
Masāru Ishii

Scenario Compiler
Adachi Toshiya

Command Interpreter
Shōka Kenwa

Scenario Configuration
Kojima Hideo
Inoue Shinya

Production
Inoue Shinya

Assistant director
Shinohara Kenji
Shōka Kenwa

Program
Shōka kenwa
Shinohara Kenji

Shooting Program
Shinohara Kenji

Sound Program
Muraoka Kazuki

CD System Design
Shōka Kenwa

System Advisor
Hashimoto Kazuhisa

Music

Furukawa Motoaki (Kukeiha Club)
Muraoka Kazuki
IKAchan
Prophet Fukami
Izumi


Acoustic
Muraoka Kazuki

Voice Linear Editing
Hashimoto Kazuhisa

Sound Director
Muraoka Kazuki

Recording
Abaco Creative Studio

Mixer
Abe Yukio
(Co,Ltd.) Abaco Creative Studio

Sound coordination
Nozaki Kimiko
(Co,Ltd.) Samusingu

Recording Cooperation
Chizaki Kazuyoshi (Music Station)

Recording Production
Kojima Hideo

Steel
Itō Toshio
Ito Studio
Matsuda Hiroshi
Yoshioka Satoshi
Nagata Akihiko

Public Relations
Hayasaka Taeko

Poster Illustration
Kaida Yūji

Package
Matsuda Hiroshi


Card Illustration
Kinoshita Tomiharu

Comic Coloring
Masuda Masanori

Manual
Matsuda Hiroshi

Making Of Video
Kojima Hideo
Yoshioka Satoshi
Nagata Akihiko

Cooperation
Yamada Yoshirō
Fukutake Shigeru
Sakamoto Shinya
Okamura Noriaki
Tateishi Kazuhiro
Furukawa Toshiharu
Shima Kenji
Tanahashi Masaaki
Ikeda Kōji
Tamura Shigeyuki
Yamashita Fumi

Hudson Soft
Roland Sound Space
Konami Institute of Technology

Produce
Nagata Akihiko

Director
Kojima Hideo

Production
Konami


G
O
O
D
I
E
S



Japanese Guidebook


Japanese Guidebook


Japanese Soundtrack


Japanese Promotional CD

O
M
A
K
E






Click on picture to enlarge
S
E
C
R
E
T
S

Here're the two answers to Napoleon's riddles at the beginning of the game:
テンカ
オネツタ

Answer at Outer Heaven to find out the name of the last Snatcher:
ベンソン


LK



Add your Pov here !



P
O
V
s


I'm a big fan of Japanese Digital Comics, but they can present a seemingly impossible challenge if you don't understand the language. Snatcher is definitively one of the best out there - although it liberally borrows from sci-fi Hollywood movies (such as Blade Runner and Terminator to state the obvious), the game does have an incredible depth to it, filled with rich characters and written with a wonderful storytelling quality. The amount of (seemingly) unnecessary details the game delves into is astounding, and this is what gives it its flair, and what makes the world of Snatcher so real. The only criticism I have with Snatcher is that, at times, you really need to dig around the menus to find out what triggers the next event. Nonetheless, Snatcher is an amazing digital comic - but if you don't speak/read Japanese, then you should try to hunt down the translated Sega CD version instead (which is, sadly, quite pricey).