| | | | |
| --- | --- | --- | --- |
| | | | |
(c)1991 Epyx
Release : 1992-10-09 (¥7200)
SuperCDRom² MWCD2005
Platform / Action game


Slime World is a side-scrolling platform game by Epyx and published by Micro World. Captain Todd is on a mission to explore the green and inhospitable underground world of a mysterious Slime Planet and retrieve all the precious Slime Gems hidden in its depths. Our hero has to visit endless caverns and catacombs filled with green and gooey slime. Six stages are available from the start and each one of them is based around upon a particular scheme - from straight arcade action where Todd has to blast as many enemies as possible, to logic action when the player has to use his brain rather than his fire-power. Todd can run, jump, climb walls or use his water-gun to defeat all the various hordes of slimy enemies the game throws at him. More weapons and special items are available, such as bombs, jet pack or shields. When hit, Todd doesn't lose any life but instead turns greener and greener until he dies - unless he can find a water pond and clean himself up.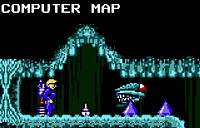 Slime World (also known as Todd's Adventures in Slime World) was first released for the Atari Lynx in 1990 (picture on the left). The unusual feature of this version was the multi-player option where up to eight players could fight against each other using the ComLynx - it was technically impressive with seamless sprite deformations, the environment in the game was definitively its best asset with convincing gooey walls and ceilings. The game was then ported to Sega's Megadrive in 1991 and to the PC Engine system (and curiously, only in Japan) in 1992.

O
M
A
K
E



Click on picture to enlarge
LK



Add your Pov here !



P
O
V
s


Slime World fails in so many ways... I don't really know where to start. If you like running around endless uninspired tunnels and blowing up uninspired monsters, then this game is right for you. Most of the features from the original Lynx games (and especially all the hardware sprite deformations) are sadly missing. Then a third of the screen is covered with a status window and was, I think, used to hide the obvious technical limitations involved in the design of the game (despite this, the game still flickers and slowsdown). But, even if everything had been flawless and perfect, the game just looks ugly, the various sprites are tiny and uninspired, and the game is horribly repetitive. "Why did it get one star then ?" you'd probably ask... just because of the soundtrack and the exclusive introduction sequence which are, without being groundbreaking, the only acceptable assets to this game. Just avoid it.