| | | | |
| --- | --- | --- | --- |
| | | | |
アールタイプ コンプリート CD
©1991 IREM Corp.
Release : 1991-12-20 (¥7500)
SuperCDRom² ICCD 1001
Shooter / Horizontal

R-Type Complete CD features the full arcade game R-Type originally released in 1987 (the original R-Type was released in Japan as two separate HuCards). Additionally, this version includes a new redbook and remixed CD quality soundtrack as well as exclusive animation cut-scenes. The Bydo Empire, a mysterious alien civilization, is about to take over the Earth and the solar system. The R-9, powerful star-fighter built on alien technology, is humanity's last stand and is sent to stop the massive threat. The fighter can use an arsenal of weapons including a standard Vulcan gun or long-range ballistic missiles. But the real super-weapon in the game is The Force - the glowing orb is indestructible and its basic function is to float near the R-9 and to protect it. It can however be upgraded throughout the game or charged up to fire powerful blasts of energy. Another important feature of the Force is how it can be thrown at the enemy and inflict devastative damage - this manoeuvre is often necessary in order to take down the large bosses or simply wreak havoc to the Bydo Empire. This version also features an exclusive storyline - the game introduces Ryō Minamoto, the R-9 pilot as well as Leza Steffany, the girl on his side as they fight the evil Bydo Empire. R-Type Complete CD consists of eight stages and is single player only.
R-Type in Japan was originally released as two separate HuCards. See R-Type I for more information.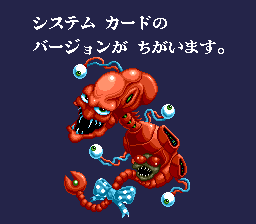 Here is the System Card warning screen for R-Type Complete CD. Most Super CDRom² games featured System Card warning screens. These screens appeared if the player happened to boot up a Super CDRom game with the wrong system card (under version 3.0 for a Super CDRom², or any system card for an Arcade CDRom²). Although some of the early games simply didn't boot at all with the wrong card, some started to display simple warning screens, elaborate animated scenes, and some, such as the popular Akumajō Dracula X, even included a short mini-game! Interestingly, these Super CDRom² warning screens became forgotten pieces of history because most players used a Duo system (which has a built-in 3.0 system card) to play their PC Engine CDRom games (Simply use a System Card v1.0, v2.0 or v2.1 to activate the warning screens on a Duo, Duo R or Duo RX system).
Game Staff (Copied from the end credits) :



-CAST-

Ryō Minamoto
Akira Kamiya

Leza Steffany
Yōko Asagami

Chief of Office
Shōzō Iizuka

Shin Aomori
Shigeru Takafuji
Hisakazu Kanazawa
Sakiko Tamagawa

-STAFF-

Directed by
Oh-Chan

Script
Okayo

Direction, Storyboard
Okayo
Uma-Chan
Oh-Chan

Character Design
Okayo

Character Mecha Design
Uma-Chan

Animators
Okayo
Uma-Chan
OSSAN

Visual Program
Patapata
Shin

Sound
Chariey Y,K
Hiya

Script Creation
Kinyan

Special Thanks
Hudson Soft


O
M
A
K
E



Click on picture to enlarge
S
E
C
R
E
T
S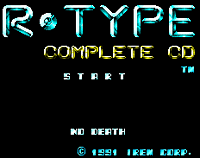 Invulnerability:
This version features a really interesting cheat! At the title screen, press Up, Left, Down, Right, Up, Down, Right, Down, Left and Right. If done right, the words "No Death" should appear on the title screen (picture on the right). You should now be invulnerable and be able to enjoy the whole game without breaking a sweat!


LK



Add your Pov here !



P
O
V
s


As you probably know, R-Type was originally released on two separate HuCards in Japan, and each only featured four stages from the arcade game. Although R-Type was released in American on a 4 Mbits Hucard (and included all eight stages), Japanese players would have to wait until 1991 for the complete game. So, was it worth the wait? Well... kind of... The game still looks as good as it ever was, and the PC Engine port was one of the best home version ever released. This Super CDRom² includes some unique exclusive features though. Animated cutscenes are now peppered around the game - their quality is fairly average but they are a nice effort in creating a storyline that connects the game's eight stages together. This version also features an exclusive remixed redbook soundtrack, but I personally think that these remixes, despite their undeniable quality, don't really fit the game... So, is this Super CDRom² game really worth it? If you already own both Hucards then I don't think it is. If you don't, then this version does include the whole game (all eight stages) and is worth the purchase. All in all, I would have personally expected a little more from a Super CDRom² game released three years after the original HuCard version, such as a couple of new enemies or stages. That being said, the PC Engine port of R-Type was ground-breaking back in the days and still is to this day.