KŘS' KAGAKU SEKAI GULLIVER BOY
| | | | |
| --- | --- | --- | --- |
| | | | |
(c)1995 Hudson Soft
Release : 1995-05-26 (•7800)
SuperCDRom≤/Arcade HCD5076
Role Playing Game


Gulliver Boy is a Role Playing Game by Red and published by Hudson Soft. The game takes place in a fantasy world based around real locations throughout Europe. The story begins in Venise (Italy) where two boys, the courageous Gulliver and his friend Edison, are being chased by weird looking masked creatures. Edison is a clever inventor and the two friends manage to escape by using one of his latest invention - a flying helicopter bag ! But things do not really go according to plan and they crash head on into a the large St Mark's Basilica from St Mark's Square. The building collapses and Gulliver is arrested and sent to a detention magic school. The player takes control if Gulliver who's first task will be to run away from detention and look for his friend Edison. Gulliver Boy follows traditional structures from the genre with creative alternatives. Our hero can visit towns, buy equipment and various items (and later even trade some of them to other cities for profit), and Inns allow him to replenish his life and save the game's progress. Trading is an important part of Gulliver Boy (trading centers are buildings with an anchor symbol on them) and are often the only way to gain money. Gulliver starts on his own but the team soon counts three characters (Gulliver, Edison and the cute Misti). A fourth member can join the party but the player can't directly control him. However, unlike other Role Playing Games, fights are not random and group of enemies are clearly visible on the screen and wonder around the map.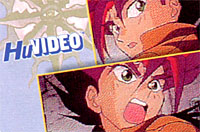 HuVideo was Hudson Soft proprietary video compressor for the PC Engine system. Despite a low color count, digitized video could be played at a steady frame rate while keeping the overall picture quality looking decent. They are sadly not full screen and run in a 192x112 pixels window. Only a couple of CDRom games used this feature though - the second edition of Galaxy Fraulein Yuna had a bonus CD with a short HuVideo anime and several illustrations. The second game, Gulliver Boy, has many HuVideo cutscenes throughout the game.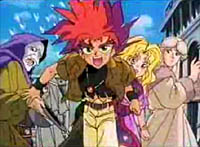 Gulliver Boy was first released by Bandai for the Game Boy system in 1995, a month before the PC Engine version tested here. But this black and white production isn't a Role Playing Game but rather, and surprisingly, a puzzle game. A fifty episodes animated series came out in Japan the same year (pictured on the right) and closely follows the PC Engine's game story - as a guess, I'd say the game was actually based on those animated series. A year later, in 1996, Hudson Soft released Gulliver Boy for Sega's Saturn. The game is an upgraded version of the original PC Engine Role Playing Game, with better soundtracks, graphics and animations. A Super Famicom version of Gulliver Boy was released three months later by Bandai. It is however a completely different action/adventure game.

O
M
A
K
E



Click on picture to enlarge
LK



Add your Pov here !



P
O
V
s


Gulliver Boy is technically perfect and quite amazing (as a side note, the game certainly reminds the excellent Tengai MakyŰ (aka Far East Of Eden) series). Graphics are nice and detailed and sprites quite large on screen. The most amazing part is certainly the animated cut-scenes FMVs using the Hu-Video feature. The end result, even if not incredible for today's standards, is hard to believe especially for a video game system released back in 1987. Gulliver Boy's story is also full of humor, witty dialogues (if you happen to understand Japanese) and memorable characters. My only complaint about Gulliver Boy is about its soundtracks - despite their excellent quality, most of them use the PC Engine's sound chip. All in all, Gulliver Boy is one of the best Role Playing Game for the system and deserves all your attention if you're fan of the genre.