GRADIUS II - GOFER NO YABŌ
| | | | |
| --- | --- | --- | --- |
| | | | |
グラディウスII ゴーファーの野望
©1992 Konami
Release : 1992-12-18 (¥7800)
SuperCDRom² KMCD2003
Shooter / Horizontal

Gradius II Gofer No Yabō is a horizontal shooter by Konami, conversion of their own arcade game originally released in 1988. Once again, the player flies the Vic Viper fighter and is engaged in a suicide mission to save the universe. But before the action starts, a weapon configuration (from a list of four) and a shield system (from a list of two) must be installed on the fighter. The game mechanics are pretty much the same as most of the Gradius games - the player must collect and accumulate red power icons throughout the game. These icons can then be used to activate weapons, add flying options to the ship or activate the shields. However, other blue power icons destroy everything on the screen when collected. Thanks to Konami, this conversion offers some extras not found on the original arcade game such as the animated introduction sequence showing the internals of the Vic Viper fighter. Most interestingly though, the game also includes an extra stage close in design to the first stage of Gradius III.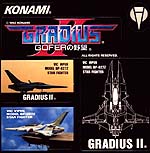 The PC Engine version of Gradius II comes with a set of stickers (picture on the left) They are mainly images of the Vic Viper. But interestingly, they are not drawings but actual pictures of a beautifully painted model and set. More pictures of the model can also be found in the game's manual (picture on the right).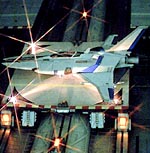 Game Staff (Copied from the end credits) :



TEAM GRADIUS II

Game Programmer
Asuty .S
Iga
Shingo .T

Graphic Designer
M. Suzuki
R.B
Pop The Top. Wada
Sound Editor
Metal. Yuhiki
K-Mu
Sanoppi

Visual Editor
M. Yoshihashi
Special Thanks
Ac.GraII Team
X68.GraII Team
Giken
Dream .M
Elf Tateishi
T.Furukawa
T.Kazuyoshi
Musical Station

Producer
Y. Yamada

(c)1992 KONAMI
ALL RIGHTS RESERVED


O
M
A
K
E



Click on picture to enlarge
LK



Add your Pov here !



P
O
V
s


If you own a PC Engine and if you are looking for a great shoot'em up, then Gradius II is a MUST BUY !!! Gradius II is, I think, one of the best shooter for the platform and one of the most enjoyable Gradius title (Gradius Gaiden is still my favorite though). I couldn't believe my eyes the first time I played this title and saw the huge flaming suns smoothly moving across the screen. I highly recommend this game and Konami even included an extra level and a great introduction sequence. Do not hesitate, rush for it ! This conversion is just unbelievable ! And watch out for the option eaters, they're nasty !