| | | | |
| --- | --- | --- | --- |
| | | | |
(c)1992 NEC Avenue,Ltd.
LICENSED BY CAPCOM
Release : 1992-3-27 (•7980)
SuperCDRom2 NAPR-1025
Shooter / Horizontal




Released in America as
FORGOTTEN WORLDS
( TGXCD1030 )

Forgotten Worlds is a multi-scrolling shooter by NEC Avenue and conversion of Capcom's arcade hit originally released in 1988. The mysterious and powerful Bios has created powerful war gods and their waging battle is now raging and spilling over into the world. Two jet-packed warriors go on a desperate quest to defeat them and their armies, flying deep within the realms of the gods' underworlds and taking them out one at the time. The player takes control of a flying commando-marine helped by a floating satellite. The unlikely machine constitutes the primary weapon system in the game - it can smoothly rotate around the player and consequently fire in any direction. Two buttons on the controller rotate the satellite and one fires it (the Avenue Pad 3 controller was actually created to play this game (see the Info section), but a standard controller may be used with some success). Various enemies drop blue crystals when killed - these Zennies (as they are called) can be later used in shops scattered throughout the game (usually located half-way through each level). There, the player can purchase satellite upgrades (such as Missiles, Multi-Ways, Laser Beams, Bound, V-Cannon, Balkan Cannon and so forth...), health potions, armors or continues. The game's structure becomes a lot more complex in later stages and some levels split into two and feature multiple routes. Finally, the two simultaneous players option was omitted from this conversion (only a second player 'satellite only' option is available in debug mode).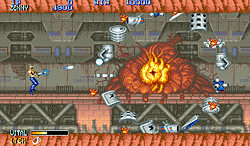 The original arcade game was called Lost Worlds in Japan and was released by Capcom in 1988 (picture on the left). This shooter was a kind of logical evolution after Section Z and Side Arms, two side-scrolling shooters also featuring flying humanoid avatars. The original arcade game had an analogue rotary dial to control the satellite. It was converted for several consoles of the time : Master System (1991), Megadrive (1989) and for many computers such as the Amiga (1988), C64 (1989), ZX Spectrum (1989) and Amstrad CPC (1989). The PC Engine version tested here came packaged with the Avenue Pad 3 in Japan, supposed to help "emulating" the rotary dial controller from the arcade.
Teaser text from the american version:
Dust World, a city reduced to rubble by the evil god Bios. It was in this hellscape that the Supper Warrior was born - destined to answer the people's prayer.
"Today he dies."
Weapon in hand, the Super Warrior stands up - the tremendous battle is about to begin.

O
M
A
K
E



Click on picture to enlarge
LK



Add your Pov here !



P
O
V
s


This PC Engine conversion of Forgotten Worlds is outstanding and Nec Avenue created a technical marvel and brought the impossible to life - in my opinion. I don't really know why, but I have always loved Forgotten Worlds - maybe because of the mysterious and attractive level design which is unlike anything else. But beware, the game's difficulty level is on the high side and the control system just doesn't respond as fast as it needs to. At the halfway mark, things get really intense and your credits will rapidly melt away. The two simultaneous player mode is also missing but we can easily understand why, the hardware probably wouldn't have cut it, I guess. All in all, Forgotten Worlds is a remarkable game and an ambitious conversion - an excellent reminder of how well Nec Avenue mastered the PC Engine hardware.