CD DENJIN ROCKABILLY TENGOKU
( Super Air Zonk - Rockabilly Paradise )
| | | | |
| --- | --- | --- | --- |
| | | | |
CD電人 ロカビリー天国
©1993 Hudson Soft
©1989,1993 Red
Release : 1993-07-30 (¥6800)
SuperCDRom² HCD3049
Shooter / Horizontal




Released in US as SUPER AIR ZONK ROCKABILLY PARADISE
( TGXCD1042 )
CD Denjin Rockabilly Tengoku is a side scrolling shooter by Red and published by Hudson Soft, sequel to PC Denjin - Punkic Cyborgs (aka Airzonk) originally released on HuCard in 1992. The futuristic version of King Droll has once again decided to take over the world and Genhead, our beloved robotic and big-headed super hero, seems to be the only one courageous enough to dethrone him and his gang. The game offers an even greater amount of wacky levels and a vast array of hilarious enemies all portrayed in a comedic and unique Rockabilly & Karaoke twist. CD Denjin features a grand total of seven stages and the game allows players to choose the order in which they want to tackle the first four levels. Our bold friend comes equipped with a modest laser blaster that can be powered up to five levels which ultimately turns him into a mean and vile war machine. But the most feared weapons in his arsenal are his blaster-boots (the ultimate technique to dispose of enemies sitting right behind him) and the poo-poo smart bombs that he can charge up and release at will. Although they now look different, Genhead's wacky and sunglass-wearing friends are still around and they all gladly help him to achieve victory - there is a total of seven friends from a tiny fish, an helicopter to a curious flying satellite or a weird looking microphone. This time around, however, they are closely related to the visited areas and eventually join forces with our bald hero when rescued. Genhead has the incredibly ability to merge with them as well and gain rather unusual special abilities - he can turn into a Sushi-chef and fire powerful waves of deadly sushis at his enemies or melt down their brains with evil songs and sound waves.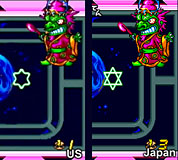 There is an interesting difference between the American and Japanese versions of the game. In the last level (King Stage), the last boss King Droll fires hexagram shaped stars in the Japanese version which were replaced by more "politically" correct hollow stars in the American port (Picture on the right).
Game Staff (Copied from the end credits) :



Producers
Eiji Aoyama
Masaki Kobayashi

Wonderful Director
Tomonori Matunaga

Director
Hito II

Superviser
Takafumi Horio

Sukisukisu
Keisuke Mitsui

Macho Man
Eddy Chiu

Character Designers
Kubo Boku
Kobuta Aoki
Jun nakamura
Keisuke Abe
Moraokamora
Hiroshi Adachi

Program
Tsutomu Takano

Graphic Designers
Yuko Tanisako
Hiroshi Nakamura
Norio Makino

Sound Producers
Satou Shinichirou
Noritada Hiraki

Special Thanks
Kappa Yuzawa
Hiroshi Iizuka
Kazumi Kobayashi
Saburou Matsuoka
Shigeru Nakahara
Bill Ritch

Presented by
Hudson Soft


O
M
A
K
E



Click on picture to enlarge
LK



Add your Pov here !



P
O
V
s


CD-Denjin is an excellent and fun title. Interestingly, the first episode was somewhat technically better and featured an incredibly fast and smooth parallax scrolling. This version compensates for this unfortunate loss by pumping more detail and variation into the levels than before - and the overall quality is still flawless. Stages are a lot less linear and are stuffed with tons of surprises and non-stop entertainment. The game is sadly a bit too easy and most experienced gamers will wrap this one up fairly quickly. The soundtrack has been (obviously) greatly improved upon the previous HuCard release and the Karaoke/Rockabilly theme is an incredibly nice touch. I personally especially love the awesome Game Over/Continue screen. Many players, including myself, prefer the first opus - but don't get me wrong folks, CD Denjin is another delicious treat that shouldn't be missed by anyone. Despite adopting a more traditional approach, CD Denjin is a welcome addition to Red's excellent and wacky series. As a side note, the American TurboGrafx-16 version is rare and incredibly expensive, I'd advise you to hunt down the much more affordable Japanese version instead.