| | | | |
| --- | --- | --- | --- |
| | | | |
愛・超兄貴
©NCS 1995
Release : 1995-02-24 (¥9800)
SuperCDRom² NSCD5018
Shooter / Horizontal


Ai Chō Aniki (also known as "Love Chō Aniki") is a horizontal shooter by Masaya and is the sequel of Chō Aniki released for the PC Engine in 1992. Idaten and Benten (the two winged heroes from the first game) despite being shortly mentioned in the introduction sequence, are nowhere to be seen. This time around, players take control of two bald and flying muscular men with huge holes at the top of their heads. The unlikely duo would actually look surprisingly familiar and anyone who has ever played the excellent prequel will have a sudden rush of déjà vu - after a closer inspection, we notice that the two muscular body-builders are nothing else than the flying options who used to fly by the sides of Idaten and Benten and protect them from harm. Are they here to avenge their original owners? Players choose whether to play as Adon or his brother Samson. Curiously, the holes at the top of their heads allow them to shoot balls of energy. By default, they fire homing energy-balls and combo button combinations activate deadly special attacks in a way similar to traditional fighting games. The other action button activates an invincibility shield allowing the brothers to fly through enemies and projectiles. But players need to keep an eye on the level timer, leading to the eventual and dreadful Game Over screen. Ai Chō Aniki consists of four large areas each made up of several sub-stages.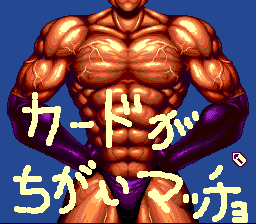 Here is the System Card warning screen for Ai Chō Aniki. Most Super CDRom² games featured System Card warning screens. These screens appeared if the player happened to boot up a Super CDRom game with the wrong system card (under version 3.0 for a Super CDRom², or any system card for an Arcade CDRom²). Although some of the early games simply didn't boot at all with the wrong card, some started to display simple warning screens, elaborate animated scenes, and some, such as the popular Akumajō Dracula X, even included a short mini-game! Interestingly, these Super CDRom² warning screens became forgotten pieces of history because most players used a Duo system (which has a built-in 3.0 system card) to play their PC Engine CDRom games (Simply use a System Card v1.0, v2.0 or v2.1 to activate the warning screens on a Duo, Duo R or Duo RX system).

G
O
O
D
I
E
S



Japanese Soundtrack

O
M
A
K
E



Click on picture to enlarge
S
E
C
R
E
T
S

Here are a few moves copied from the game's instruction manual:

Spread Attacks
Right spread attack: (Left) (Right) + (II)
Left spread attack: (Right) (Left) + (II)
Up spread attack: (Down) (Up) + (II)
Down spread attack: (Up) (Down) + (II)

Punches
Right Punch: (Down) (DownRight) (Right) + (II)
Left Punch: (Down) (DownLeft) (Left) + (II)


Hit everything on screen:
(Right) (Left) (Down) + (II)
or
(Left) (Right) (Down) + (II)



LK



Add your Pov here !



P
O
V
s


Ai Chō Aniki is often negatively perceived (and sometimes surprisingly blamed) for what some reviewers do not hesitate to call it's "homoerotic" and "disgusting" theme and content. But if they themselves had played beyond the first stage (or even passed the title sequence), they would have discovered a rich and incredibly detailed game. One of the most immediately striking things about Ai Chō Aniki are its sumptuous graphics and the game displays some of the most amazing character/mechanical designs ever seen in a video game. The unique soundtrack by Taku Iwasaki is also exquisite. Ai Chō Aniki will certainly surprise and amuse you around every corner with weird but always witty content. The body-building/homoerotic theme is a pastiche and yes, it can intrigue and even disturb - but I personally love it and it certainly sets the game apart from anything else in the genre. And Ai Chō Aniki looks incredible! Only the weapon system is a bit awkward and, let's be honest, flawed... I wished they had kept a more traditional and straight forward system - the main weapon is really sluggish and the 'fighting game' moves are difficult to activate. The control system ends up being let down by the flawed implementation of its otherwise perfectly good intentions and I would have given the game a much higher score if it had. All in all, Ai Chō Aniki looks magnificent but with questionable gameplay decisions... But let's end this review with my favorite quote from the game : "DO THE MUSCLE !"